YING LIU
Highlighting the shifting, participatory nature of viewership, mediated in
real time
by
everyday use of technology
, my practice reveals how experimentation is most fruitful when it escapes predetermination.
My work hybridizes theater, dance, video, and performance art
with DIY props and an exuberant sense of play by employing consumer technology—such as VR, GoPro and GPS—and featuring diverse, multi-generational performers. My projects have included
collaborations
with bankers, construction & municipal workers, sociologists, psychotherapists, dog walkers, and scientists—sometimes all in the same performance. Poking at the traditional boundaries of media-based art, and often smashing the 4th wall between performer and spectator, I stir together contradictory forces of memory, spatiality, and the
inherent friction and great possibilities of sociality
.
CONTACT
FELLOWSHIPS
& RESIDENCIES

PLAYDATE is a hyper-cellphone oriented performance combining theater and happenings to explore urban interconnectivity.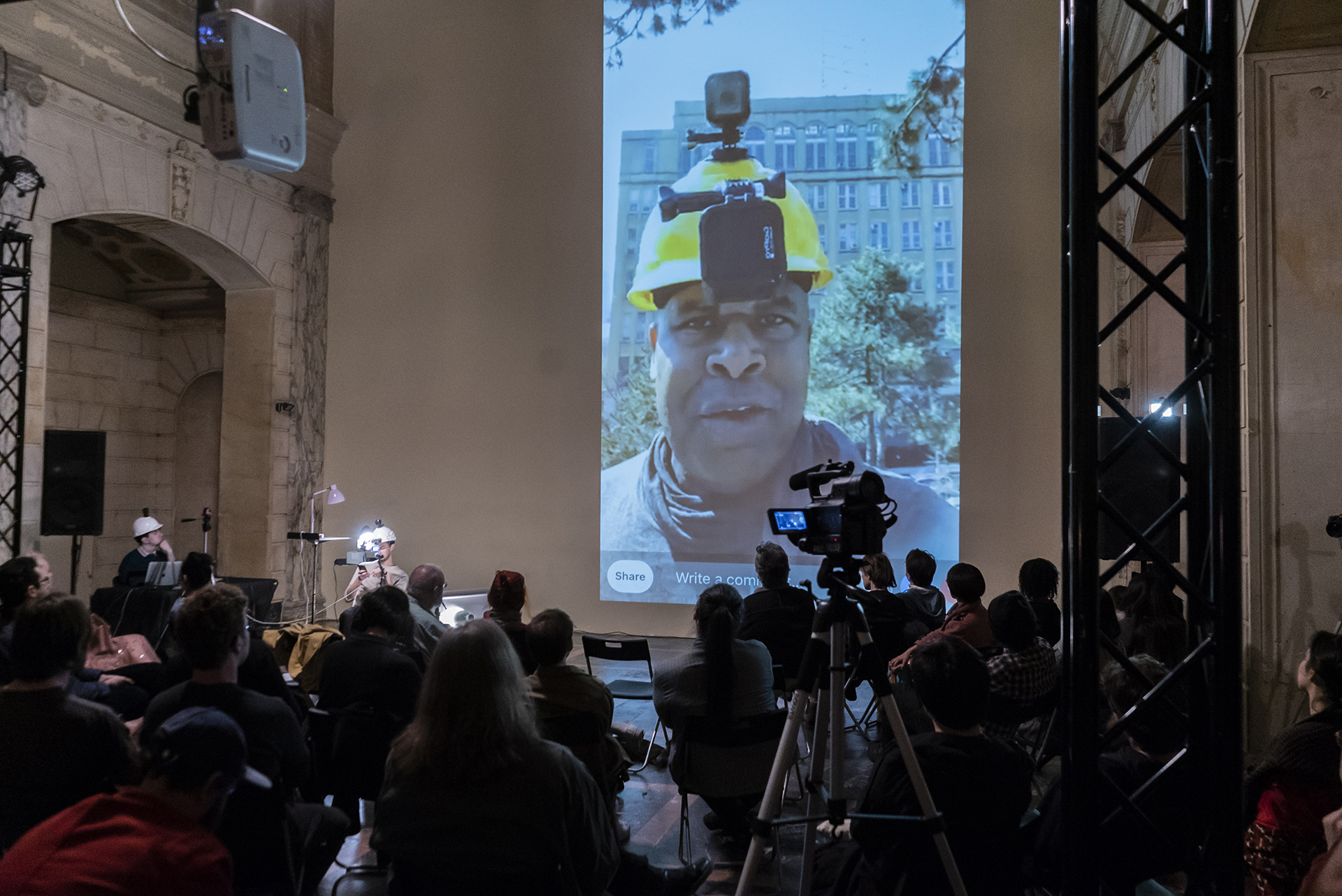 Situated as an outdoor play in Downtown Brooklyn, the performance documents a cast of roving players (using GoPro cameras) as they perform sequenced performative tasks dealing with local businesses, public facilities, and various contingencies.

Main cast and audience were physically separated and viewable via social media and GPS. At ISSUE, viewers could interact with the piece through their own social accounts, becoming part of the piece and creating individual perspectives with no single vantage point.

---
Performed by
Catherine Ruello, Dave Wreck, Isaiah Baker, Julie Lin, Kenneth Pietrobono, Naomi Khan, Nawan Bailey, Nick Scavo, Rachel Brooks, Sean Forlenza, Yi Chen, Ella the dog
---
PIGTAIL
—A Swivel Stool Dance™
ISSUE Project Room
2019

PIGTAIL
is
a
movement work
utilizing customized swivel stools
(deconstructed office chairs).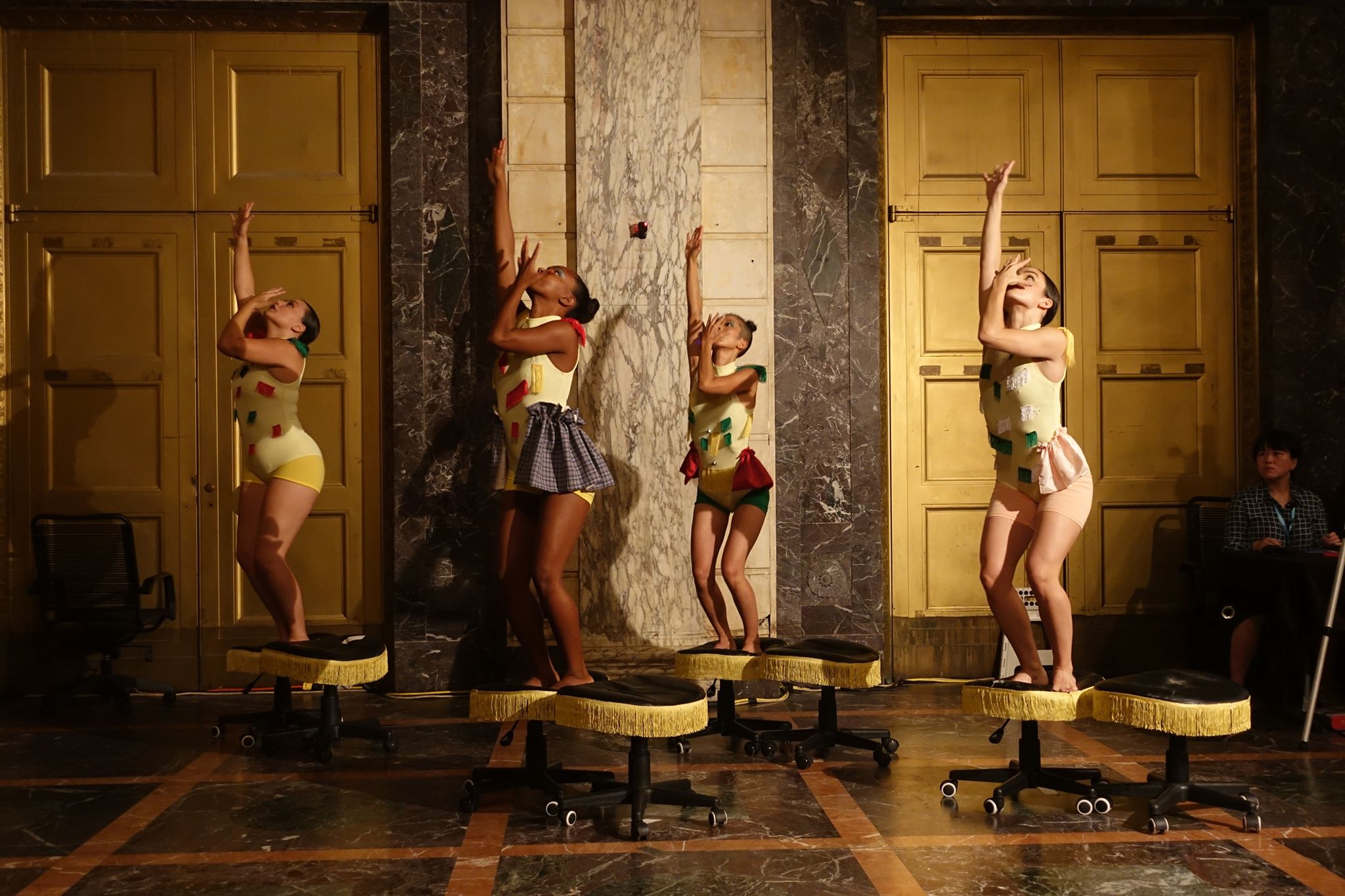 Distilling a year-long process into an hour, a cast of dancers adapted to these chairs as extensions of their bodies, together developing a brand new technique. The choreography incorporates sports actions seen in synchronized swimming and rhythmic gymnastics as foundational sources of individual and collaborative movement. During the performance, the audience was also seated in swivel chairs, contributing to the overall fluidity of the room while responding to the dancers in motion.

---
Performed by
Ashley Ervin, Corinne Daniel, Sayoko Kojima, Shelby Nelson, Shelby Tucker, Yi Chen
---
Hybrid performance/theater work HANG OUT is a three-episode play situated in New York Chinatown's Sara D. Roosevelt Park. Technologies such as GoPro cameras, smart phones, and live streaming VR equipment capture micro-events and relationalities amongst performers and park goers. An ensemble of performers with cameras spectate park activities, assemble props, and engage in scripted movement/dialogue.
HANG OUT converges performance, choreography, and lived experience.

---

Episode 1 - August 3, 2017
Starring
Yi Chen, Keith Connolly, Albert Hsueh, Anastasia Koss, Ying Liu, Yuching Tsai

---
Episode 2 - August 17, 2017
Starring
Yi Chen, Keith Connolly, Albert Hsueh, Ying Liu, Yuching Tsai
Featuring
Mr. Zheng, CFGNY's Daniel Chew & Tin Nguyen with Nicholas Andersen, Henry Bae, Howie Chen, Angela Dimayuga, Doris Guo & Franky Tran

---
Episode 3 - August 25, 2017
Starring
Yi Chen, Keith Connolly, Albert Hsueh, Ying Liu, Yuching Tsai
Featuring
Nawan Bailey, Ms. Zhao, Mr. Zheng, Jake Borndal, Richard Maxwell
---
MAKE A FOUNTAIN
publication
2018MAKE A FOUNTAIN
is
a book-length experimental report
about
HANG OUT
, a site-specific, three-episode play, staged by Ying Liu in 2017, at Sara D. Roosevelt Park's All Purpose Field­­­ in New York City's Chinatown.
302 pages.
---
Text contributors:
Sophia Chai, Michael Smith, Rena Gill, CFGNY, Yuching Tsai, Jeffrey Blocksidge, Jingzhi Wang, John Matturri, Yi Chen, Maika Pollack, Keith Connolly, Albert Hsueh, Nawan Bailey, Karina Eckmeier, Jake Borndal, Richard Maxwell, Nicholas Elliott, Chris Campanioni
---
An evening of virtual reality and performance
celebrating tiny, trivial thoughts and creativity, realized through 360-degree live streaming, double go-pro video feeds, "primitive machines" and walkie-talkies. Curated by
Phill Niblock
as part of Experimental Intermedia 44th anniversary performance series.
---
Performed by
Mireya Piedra, Sashkya Arce, Yi Chen, Li Tang, Keith Connolly
---
NOW WE START FROM THE ARM was a dance interwoven with formal strategies adapted from film and performance. The choreography integrated smartphone photography and chance-based procedures, and was complemented by space-transforming murals and custom costumes.

---
Performed by
Yi Chen, Nicholas Elliott, Ashley Ervin, Giovanna Louisa Querci, Gabriel Garcia Roman

---
DON'T BE SHY, MAN! was a hybrid show oriented by a devotion to the endlessness of artistic exploration, the inherent multiplicity of meaning, and the modification of everyday objects to create alternative, non-utilitarian modes of being. It was also an engagement with the poetry of performance artist, Stuart Sherman, which forms a deeply under-celebrated aspect of his practice. The piece explored the ways in which meaning is inscribed by and through the collective, and as such, involved over thirty contributors ranging from house music DJs to rappers, dancers, and filmmakers. Each member of the multi-generational crew of artists and non-artists—which included several of Sherman's personal friends—presented a unique interpretation of one of his poems, encouraged not to imitate him but to embrace their own singular voice. By bringing together such a wide range of media and participants, the show highlights the ways in which Sherman's work is undergirded by a very empathetic mode of inclusive heterogeneity. Instead of offering a prescriptive reading of his legacy, it wanted to simply create a space where people could think their own thoughts.

---
Performed by
Annie Berman with Natalia de Campos & Jing Wang, Mark Bradford, Yi Chen, Alex Delinois, Andrea Jane Dispenziere, Nicholas Elliott, John Hagan, Yolanda Hawkins, Ken Jacobs, Nisi Jacobs, Jahiliyya Fields, mugwumpseeker, Nina Linde, Ying Liu, John Matturri, Valeria Meiller, William Niederkorn, Sal P & Sean Bee, Ken Ross, Michael J. Schumacher, Slow to Speak, Daniel Tipton & Jamal Flaherty, Philip White
Additional screen appearances by
Hugo Genes, Greg Zuccolo

---

"With its flurry of multiply layered and complexly interwoven associative images, words, colors, and sounds, Ying Liu's "Ham over Rice" makes a quick track across the retina, allowing consciousness to grasp what it can in its wake. Let loose from Ying's enthusiastically voracious intelligence, the film creates out of a Chinese myth of a multiple-sun destroying archer, a multi-colored, multi- dimensional playhouse of the mind and eye."
— John Matturri

"Ham over Rice" is not a movie, even if it is film. Can a film be a thing rather than a message? In this rhythmical ambiance, messages set out to express themselves then turn into metaphors. This is film as thing embroidered with graffiti, a work, a filmwork that is art – fusing and diffusing its elements. Colour and doodling play a part in it, as do Tarot cards and coat-hangers. Perhaps it is a new sort of dish, for the way it brings together its disparate elements constitutes a wonderful display of timing that could prove tasty. The message may be elusive, but each passage seems to demonstrate a syntax. Possibly it's the birth of a syntax that negotiates and knits together cartoon and camera, sound and set, sense and a desire to evade sense. What the hell are we looking at?"
— Anthony Howell

---
Performed by
Ivan Monegro, Gabriel Garcia Roman
---

Published by Palimpsest: Yale Literary & Arts Magazine, RISK, Volume VIII, 2017

On the night of Chinese Mid-Autumn Festival, 2013 (also called Moon Festival, the 15th day of the eighth month on the lunar calendar), artist Rachel Long and I attempted to stretch a silver string across the surface of Jacqueline Kennedy Onassis Reservoir in New York City's Central Park. The idea is to create a gentle "breeze," or to cut through the atmosphere of the water using a silver thread during a full moon. No breezy task though—the unauthorized performance at sunset turned into an evening of trouble shooting. Unlike my other film/video and performance work where I unpack my tangled thoughts, this time we got ourselves physically very tangled.

---
Performed by
Ying Liu, Rachel Long
---
Ying's Tails
2011-
Ying Liu makes tails as metaphorical containers for her tiny, trivial thoughts and creativity.